Next Question: What's A Publishing App?
February 22, 2011 at 11:01 AM EST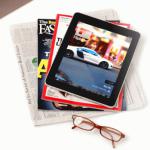 We created subscriptions for publishing apps, not SaaS apps. —email attributed to Steve Jobs There's been so much confusion in the wake of Apple's new subscription billing policy for apps that Steve Jobs felt the need to issue the proclamation above via his preferred method, a personal email. (It's his version of the burning bush). While Apple's new policy clearly states that all subscriptions for purchasing "content, functionality, or services in an app" must go through Apple, Jobs suggests that Apple will make a distinction between "publishing apps" and "SaaS apps" (software as a service). Apps like Salesforce or Evernote, for example, operate under an SaaS subscription, and are available to the same subscribers on the Web and other devices besides the iPhone. Apple appears to be backtracking here. As I suggested on Friday in a Fly or Die video with Rhapsody's president Jon irwin (who offers a music streaming subscription app on the iPhone), Apple's initial broad-stroke rule may very well have been a trial balloon. The subscription billing system was obviously designed with media apps in mind, particularly publications. Maybe Apple won't apply it to other types of subscription apps. Indeed, this latest email from Jobs appears to signal that Apple is adjusting to the market reaction.