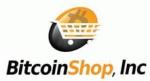 ARLINGTON, VA -- (Marketwired) -- 05/21/14 -- Bitcoin Shop, Inc. (OTCQB: BTCS), the virtual currency ecommerce marketplace www.bitcoinshop.us, will be a featured presenter at the 3rd Annual Marcum MicroCap Conference on Thursday, May 29, 2014 in New York City at the Grand Hyatt Hotel. The Company's presentation by Charles Allen, Chief Executive Officer, is scheduled to begin at 9:00 a.m. EDT.
The annual Marcum MicroCap Conference is a signature showcase for under-followed public companies with less than $500 million in market capitalization.
For more information or to register, please visit the conference website at http://www.marcumllp.com/microcap or download the free official conference app for the iPhone, iPad, or for Android mobile devices in Apple's App Store and the Google Play Market.
About Bitcoin Shop, Inc.:
Bitcoin Shop, Inc. operates an ecommerce website (www.bitcoinshop.us) where consumers can purchase products using virtual currency such as bitcoin, litecoin and dogecoin, by searching through selection of over 400 categories and over 140,000 items. Bitcoin, litecoin and dogecoin are virtual currencies that use peer-to-peer networks to facilitate instant payments. They are all categorized as cryptocurrencies, as they use cryptography as a security measure. Bitcoin, litecoin and dogecoin issuances and transactions are carried out collectively by the network, with no central authority, and allow users to make verified transfers.
About Marcum LLP
Marcum LLP is one of the largest independent public accounting and advisory services firms in the United States. Ranked #15 nationally, Marcum LLP offers the resources of 1,300 professionals, including over 160 partners, in 23 offices throughout the U.S., Grand Cayman and China. Headquartered in New York City, the Firm's presence runs deep, with full-service offices strategically located in major business markets. Marcum is a member of the Marcum Group, an organization providing a comprehensive range of professional services spanning accounting and advisory, technology solutions, wealth management, and executive and professional recruiting. The Marcum Group companies include Marcum LLP; Marcum Technology LLC; Marcum Search LLC; Marcum Financial Services LLC; Marcum Bernstein & Pinchuk LLP; MarcumBuchanan Associates LLC; and Marcum Cronus Partners LLC. For more information, visit www.marcumllp.com.
Primary Investor Relations Contact:
Alliance Advisors, LLC
Valter Pinto
(914) 669-0222 or (212) 398-3486
Email Contact

Investor Relations:
Jon Cunningham
RedChip Companies, Inc.
(800) 733 2447 ext 107
Email Contact

Media Contact:
Michael Terpin
Transform Public Relations
(310) 862-6312 (direct)
Email Contact