The latest version of the free Key Ingredient recipe app for iOS now supports Apple Watch.  Users can now flick their recipe to their new Apple Watch for faster access to their ingredient list and more.  In addition to the new Apple Watch support, the latest version of the app is 100% ad-free, making the Key Ingredient app for iPhone and iPad one of the best truly free recipe apps available today.
Learn more about how the app works with the Apple Watch at: http://www.keyingredient.com/applewatch/
The free Key Ingredient iPhone and iPad app works seamlessly with the Key Ingredient website to form the ultimate online cookbook experience.  Cookbooks you create or organize on the website automatically synch with the apps and vice-versa, meaning all your favorite recipes are available anywhere you are.
With the newest Apple Watch feature, the Key Ingredient 2 Million Recipes app lets you flick your recipe straight to your watch, giving you fast access to ingredients list on your wrist so you can collect the items you need from your fridge without having to keep looking at your phone or tablet.   Combine this with your own cookbooks, recipes, as well as 2 million recipes uploaded by other Key Ingredient members, and your cooking ecosystem just got a major upgrade.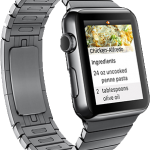 The Key Ingredient 2 MMM Recipes app is also available for Android phones and tablets, including Amazon Fire.  A premium version of the app with text-to-speech recipes also ships with the Key Ingredient Recipe Tablet, a kitchen-safe Android tablet made by Key Ingredient.
About Key Ingredient
On the web, on the go and in the kitchen, Key Ingredient is the ultimate recipe eco-system! Offering the only organic, share-able collection of more than 2 million recipes, Key Ingredient's mission is to inspire the food lover in all of us and instill confidence by harnessing the power of technology. Based in Austin, Texas, Key Ingredient is a member of Groupe SEB, a world leader in small household equipment.
Key Ingredient brings 2 Million Recipes to Apple Watch is a post from: PRUnderground