Rising Artist Clayton G Williams closed out the 2015 opera season as a cover for Ephraham in the collaborative reproduction of Harlem Renaissance figure H. Lawrence Freeman's Voodoo. The story –put forth by Harlem Opera and Morning Side Opera- captures the twisted faith of a jilted lover who turns her back on her Christian faith to utilize the magical powers of voodoo to [unsuccessfully] win back the man she loves. The New York Times featured two stories on the 'Long Unheard Opera;' crediting Freeman's bravado in premiering the show in 1928 at NY's Palm Garden; featuring an all-black cast. The highly spiritualized opera was first broadcast live in 1928 on New York radio and was the first opera by an African-American composer to be presented on Broadway.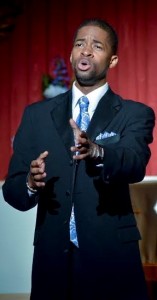 UPCOMING PERFORMANCES
Since Williams' last operatic performance, he has been featured as a Soloist in several church productions throughout the greater New York City area. Highlights of his upcoming performances include Soloist in 'Music for my People, By My People' at Bethel A.M.E Church in New York City and 'The Heavens are Telling' from Hayden's Creation at St. John A.M.E church in Aurora, Illinois.
TELEVISION
In addition to Williams' work on the main stage, the emerging artist can also be found on the big screen doing screen work for mega hit shows such as NBC's miniseries "The Slap," 'Law & Order SVU,' CBS's 'Madame Secretary,' 'Blue Bloods' and ABC's 'Forever.' Additionally, Williams has appeared in several Indie films; and has recently received credits from IMDb for his work in the 2015 Independent Film "Finding Her."
From singing and dancing to the intrigue and love of acting, Clayton makes a concerted effort to wow his audiences. With beautifully sung performances and a beguiling stage presence, Clayton exudes the talent, focus and refinement of a seasoned entertainer. The emerging artist has been featured in several newspapers / online periodicals; including Broadway World, Denver Weekly News and NYPRESS.COM.
When Williams is not appearing in the world's top theaters, he can be found at a benefit concert near you belting out beautifully arranged music; with an edgy imperative that reminds you of the golden age of Opera. Williams attributes his weekly vocal training and exercise regime to his ability to remain confident and poised while navigating through his rigorous work schedule.
Clayton G Williams is a unique gift to the Big Apple and is a wondrous example of what authentic artistry is all about- the kind of raw talent that captains of the entertainment industry make investments in. Williams has an unparalleled interest in his community and beyond and is able to illustrate this each time he lends his voice to churches and philanthropic endeavors throughoutthe nation. Through a strategic and careful selection of roles, Williams- who is increasingly big on integrity- is able to protect his reputation and brand while nurturing and cultivating his professional growth and talent.
For more information on Clayton G Williams and/or to book this rising icon, please visit his website at www.claytongwilliams.com.
About Striker PR
Striker PR is a boutique public relations agency specializing in a variety of products and services; with expertise in the worlds of beauty, fashion and music.