Good quality marketing services are beyond the reach of ordinary small businesses. That's according to Chris Mayfield, CEO and Founder of Business Hands – a marketing agency set up specifically to address this problem.
Britain has been gripped by a wave of entrepreneurialism over the last 5 years leading to the creation of an unprecedented number of new start-ups. Many of those are the product of "start-up incubators", designed specifically to help turn ideas into killer products or services in the shortest possible time. But more often than not, that involves turning to an investor – sometimes to fund the development of the product but just as often it's to fund the extensive marketing required to launch and sustain the product through its first year and that could easily run into the tens of thousands of pounds.
But what if you don't want to give away a slice of your company in return for investor buy-in? Or what about if you're simply not looking to become the next multi-million pound start-up, but instead – just an ordinary small business?
Most marketing agencies (especially in London), won't even agree to meet with you unless you're prepared to spend at least £1500 a month, yet they're still calling themselves small business marketing agencies. "If you look at the digital services landscape as it stands, there's simply no way the average small business, without access to investment, can afford to take on the services of even a low price agency" says CEO, Chris "and that can lead to your business becoming a bit of a 2nd class start-up".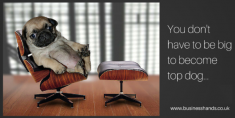 So what are the marketing options for an ordinary small business? Try doing it yourself and you leave no time to run your business, so many start-ups and small businesses turn to an intern. The problem with interns though, is they're not professionally trained and they have no strategic insight and that leaves you stuck between a rock and a hard place. You either decide to ignore marketing completely or you manage and train up an intern which you've no time to do either. The net result whichever option you choose, is that your start-up doesn't bring in the revenue it needs and your business dreams start turning into financial nightmares.
It's not been easy, but by leveraging a range of technologies and partnering with a myriad of service providers across the globe, Business Hands is now able to offer a real alternative. Marketing services start at around a quarter of the price of taking a paid intern on board and businesses get access to skills and strategic insight that would normally be the preserve of those with much bigger budgets.  This, Business Hands hopes – will level the playing field and help the ordinary small business find its voice and become successful.
About Business Hands
Business Hands is the marketing agency for the little guy.
We specialise in providing top quality marketing services to small and mid-sized businesses across the United Kingdom. Our belief, that quality marketing services should not be the preserve of big companies with big budgets is at the core of everything we do.
We're a great choice for ambitious yet cost conscious organisations. By utilising Business Hands marketing services, organisations are able to significantly increase their marketing power without the financial pressures of employing additional team members.
Want to know more? Contact Founder and CEO – Chris Mayfield on 0207 458 4788 or email chris@businesshands.co.uk
Read full release at PRUnderground.com: Good marketing beyond the reach of small business believes BusinessHands CEO, Chris Mayfield.