Family of Unique Kitchen Products Offers Value, Style, and Greater Functionality
Grasonville, MD (PRUnderground) October 23rd, 2017
Industry-leading housewares company Kitchen Essentials by Cornell has entered the kitchen gadget market with the introduction of family products superior in both design and functionality. The new gadgets feature a stylish, coordinated look that distinctly Kitchen Essentials by Cornell, as well as innovations that provide users with significant performance advantages.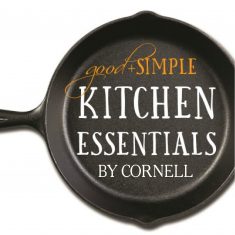 Two of the offerings that will make up Kitchen Essentials by Cornell complete Kitchen gadget family-a "next generation" Removable Silicone Hot Pan Holder and Nylon  Plastic Pan Scraper is now available, with additional gadgets to unveiled later in months. The proprietary designs of Kitchen Essentials by Cornell new kitchen gadgets make them easier to use and more effective than anything else on the market.
Unlike ordinary hot pan holder, this removable heat-resistant silicone pan holder offers a secure and comfortable grip resisting heat up to 450 degrees. Dishwasher safe for easy clean up. It makes a great addition to any kitchen.
When it comes to cleaning cooked on food residue on your pans Roberts notes "you will appreciate our nylon pan scrapers" its unique shape and design makes pots and pans clean up a breeze.
According to Cornell Roberts, founder of Kitchen Essentials by Cornell, Maryland-based Company is dedicated to providing the finest products available at extremely low prices. "Kitchen Essentials by Cornell specializes in high quality products, solutions-based gadgets that deliver clear benefits to the user," said Roberts. "Our goal is to supply consumer with merchandise offering unsurpassed innovation and value, while also enabling our retail customers to maximize sales."
To learn more about complete line of quality products sales and promotions Essentials By Cornell visit us on the link below
https://deliciouspromos.com/promo/hot-handle-holder/
About Kitchen Essentials by Cornell
Press Contact
Name: Cornell Roberts

Phone: 4107257813

Email: cornellb2k@yahoo.com
Original article: Kitchen Essentials by Cornell Introduces New Family of Innovative Kitchen Gadgets.