Tickers: XTSX:SCA
Tags: Mining
Toronto, Canada / TheNewswire / April 10, 2018 - Savary Gold Corp. (TSX-V: SCA) ("Savary" or the "Company") is pleased to provide an exploration update for its Karankasso JV exploration Project in south western Burkina Faso. Savary is the operator of the project and owns approximately 71.5%.
During February and March 2018, Savary completed 1,024 auger drill holes totalling 8,330 metres to test for gold enrichment below surficial cover material. See a summary of the results below and presented in Figure 1.
- Best sample contains 4,578 ppb gold

- Five samples contain > 1,000 ppb gold

- 78 samples contain >100 ppb gold

- 157 samples contain >50 ppb gold

- Widest, strong untested new anomaly is 150 metres wide

- 64 unique targets, >100 ppb gold, to be tested by air core holes
"This work has identified a whole new series of drill targets that will be tested in conjunction with planned follow-up from our phase 1 program that was completed in early March. Based on our high, new zone discovery success rate, after the previous auger program, management is highly optimistic that these new anomalies are indicative of underlying extensions of the known mineralized trends and with luck, some new trends as well." stated Don Dudek, President and CEO of Savary. Mr. Dudek further noted "we plan to drill-test these targets in the coming weeks to access their potential to increase our estimated mineral resources."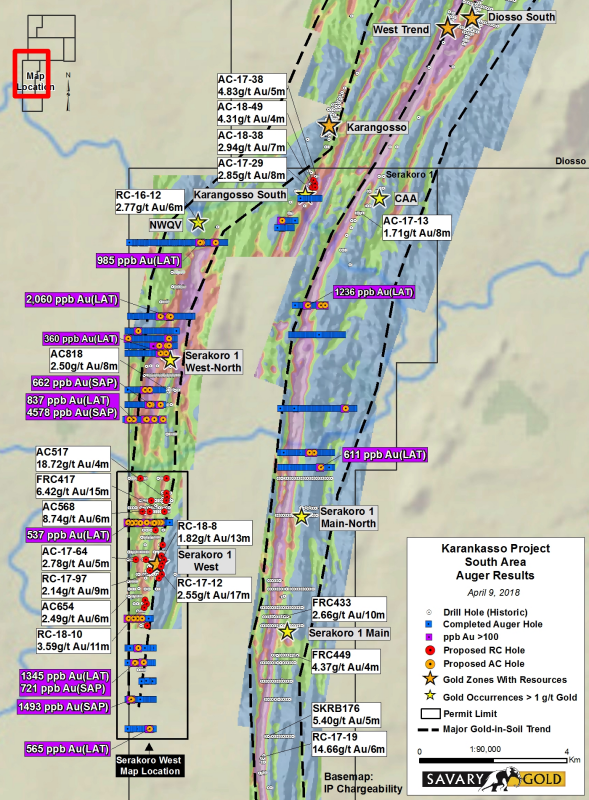 Click Image To View Full Size
Figure 1 - Summary gold-in-auger results
Auger Drilling
Vertical auger holes were completed over overburden-covered areas where soil sampling has been variously effective. Auger holes range from 1 to approximately 25 metres deep with an average depth of 8.1 metres. Auger lines, in select areas, vary from 200 to 1,000 metres apart with auger stations every 25 metres. Two samples are collected in each auger hole comprised of a laterite (or alluvium) sample, which is considered a near bedrock surface, mobile layer, and the lower, adjacent saprolite that represents the top of the weathered and in-situ rock profile. As a reference, a representative sample, for every metre down-hole, is collected and placed into chip trays. While the hope is to intersect gold values in the saprolite below the anomaly (a true discovery), typically the anomaly (based on laterite samples) is down slope of a mineralized zone and one or more holes may be used to find the true source of the underlying mineralization. The surface laterite samples can indicate a broad target, often picking up a distant source, as gold at this interface is much more mobile and, therefore, a line of air core holes is typically used to locate the true source.
Most of the new auger anomalies occur along known mineralized structures. Occasionally new trends are recognized that were not previously interpreted. Air core drilling is planned to test all anomalies >100 ppb in the next drill program.
Auger results indicating > 100 ppb gold are considered highly significant and values >30 ppb gold are sufficient for defining mineralized trends. Management believes that the highest value obtained from the current survey of 4,578 ppb (4.6 g/t gold), likely indicates that the auger hole intersected the upper portion of a yet, undefined gold zone.
Serakoro West Target Area
Work along the 7 km long, up to 1.2 km wide portion of the Serakoro West target has delineated ten, northerly-trending, gold-enriched corridors along which, higher grade gold intervals have been intersected (see Figure 2). The gold corridors appear to be up to 150 metres wide as identified from all previous auger, air core and RC drilling. These corridors contain both well defined, moderate- to shallow-east-dipping (to possibly flat) gold-bearing structures, and wide, zones of stockwork-type gold mineralization associated with quartz stringers. Both types of gold mineralization suggest, in management's opinion, the presence of a large, gold bearing mineralized system. Figure 2 also presents all previous auger results at Serakoro 1 West which helps to emphasize the 500 to 1,000 metre gaps in the sampling and that the system is still clearly open along strike.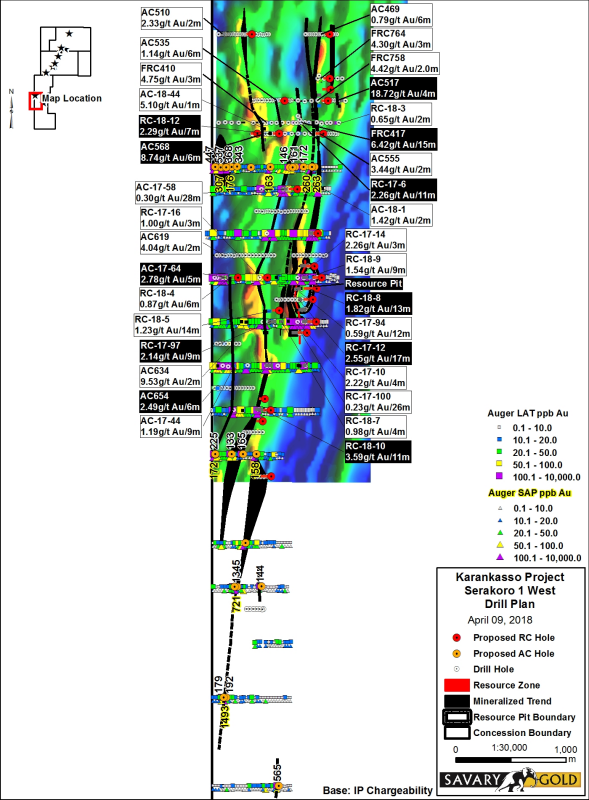 Click Image To View Full Size
Figure 2 - Serakoro 1 West Target Area Summary - new auger anomalies show gold values
QA/QC Comments
Savary's procedure for handling auger chip samples comprises random sampling of one metre drill length return into approximately 1.5 to 3.0-kilogram samples, as well as description and logging into a database. Representative samples of each metre of the auger hole are also preserved in chip trays for future reference. An assay blank or standard was inserted sequentially every 20-30 samples This sampling procedure was periodically reviewed by Savary's President and CEO, and the Company QP, Don Dudek, P. Geo. All assay samples were delivered to Savary staff who then arranged delivery to BIGS laboratory in Ouagadougou, Burkina Faso where sample preparation and analysis were performed. Auger samples, would be sorted, weighed and placed on stainless trays and dried at 90?C until dry. The samples would then be jaw crushed to <2mm using a Boyd Crusher, if necessary, and the crushed material will then be split using a riffle splitter unit to create 2 samples of approximately 1 kg of mass, each. One of the two samples would then be pulverised using an LM2 pulveriser system to give a product of 90% passing 75um. This pulverised product will then be weighed for Fire Assay determination of the Au content using an Aqua Regia digestion followed by a Flame AAS finish. The samples would be treated in batches of 50, consisting of (from the lab) 1 Blank, 2 QC Standards and 2 repeats. Under normal conditions, a repeat portion will be selected at a 1:20 ratio, and these "preparation" repeats would be included in the sample batch of 50 as discussed earlier. Thus, each batch of samples would include 1 blank, 2 QC standards and 4 repeats (including the 2 preparation repeats). Each sample would be subjected to a process using the "Leachwell" is based on a typical digest for a 12-hour leach with fluid analysed for gold after 12 hours. Most standards and blank control samples returned results within expected ranges. Those batches that returned standard values outside an approved range are being re-assayed. None of the re-assayed batches impacted the results presented here-in
Savary is a Canadian exploration company focused on exploring and developing (its ~71.5% owned) Karankasso Gold Project in Burkina Faso. The Project is located within the Hounde Greenstone Belt, which hosts Semafo's Mana mine, Roxgold's Yaramoko Mine and Endeavor's Hounde Mine. The Project contains an Inferred mineral resource estimate* of 12.3 million tonnes (Mt) grading 2.03 g/t gold for 805,000 ounces. For additional information please visit our website at www.savarygold.com.
Don Dudek, P.Geo., President and CEO of the Company and a qualified person under National Instrument 43-101, has reviewed and approved the scientific and technical information in this press release.
* Open pit constrained Mineral resource estimate presented in Savary news release dated November 2, 2017
For more information, please contact, Don Dudek, President and CEO at 647-259-2097, : info@savarygold.com or visit our website at www.savarygold.com
Cautionary Notes
The potential to increase existing estimated mineral resources is conceptual in nature and it is uncertain if further exploration will result in the target being delineated as a mineral resource.
Neither TSX Venture Exchange nor its Regulation Services Provider (as that term is defined in the policies of the TSX Venture Exchange) accepts responsibility for the adequacy or accuracy of this release.
This news release may contain forward-looking statements. These statements include statements regarding the details of the potential value growth of the JV, the upside of the property, the drill program, the company's exploration plans and the timing of results, the focus on existing drill targets and new targets. These statements are based on current expectations and assumptions that are subject to risks and uncertainties. Actual results could differ materially because of factors discussed in the management discussion and analysis section of our interim and most recent annual financial statement or other reports and filings with the TSX Venture Exchange and applicable Canadian securities regulations. We do not assume any obligation to update any forward-looking statements, except as required by applicable laws.
Copyright (c) 2018 TheNewswire - All rights reserved.