Selecting the right cookware for your kitchen is key and will influence your health, cooking performances, cost and easy of care for years to come. Gunter Wilhelm is using quality materials and state-of-the-art technologies to manufacture its stainless steel cookware. Gunter Wilhelm cookware meets the strictest health standards and requirements in USA, Europe and Asia, providing a safe healthy cooking cookware for you and your loved ones. Gunter Wilhelm cookware has a mirror-finish for easy maintenance (easy wash and care)
New Jersey, USA (PRUnderground) June 22nd, 2018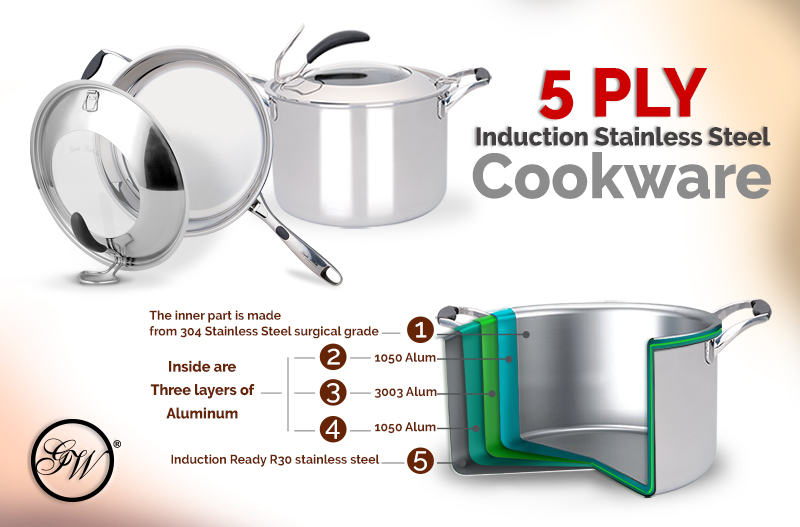 Selecting the right cookware for your kitchen is key and will influence your health, cooking performances, cost and easy of care for years to come.
Gunter Wilhelm is using quality materials and state-of-the-art technologies to manufacture its stainless steel cookware. Gunter Wilhelm cookware meets the strictest health standards and requirements in USA, Europe and Asia, providing a safe healthy cooking cookware for you and your loved ones. Gunter Wilhelm cookware has a mirror-finish for easy maintenance (easy wash and care)
Point 1:  5 Layers vs. 1-3 layers:
Stainless steel by itself is not a good heat conductor and therefore to make it cooks friendly many manufacturers are adding a copper or aluminum cores that will distribute the heat evenly and quickly. A even heat distribution is critical for the cooking process and avoiding hot/cold spots is a must.
1 layer of stainless steel will not distribute the heat quickly nor even, creating a significant temperature difference in different areas on the pan.
Most 3 layers have a copper core or aluminum core.  Both cores are introducing a new level of heat distribution across the pan, however with a full-clad 5 layer (3 inner aluminum cores with different heat distribution characteristics for the layers) Gunter Wilhelm's cookware is able to create an even heat distribution bottom to top.
Point 2:  5 Layers full-clad vs. 7+ layers bottom plate:
Gunter Wilhelm heavy-duty-quality full-clad cookware have an even heat distribution bottom-to-top
A capsulated bottom will have a very good heat distribution on the bottom ONLY.  The bottom is storing a lot of energy (heat) that's wants to move from the heat source to the colder area (in the pan case to the wall of the frying pan which are exposed to the room temperature air), however the wall of the fry pan is only 1 layer (best case 3 layers) and can't transport all the heat created and stored at the thick bottom, which creates a "ring" of supper hot spots on the bottom.
Point 3:  3mm vs. 0.75-2.5mm thickness
Gunter Wilhelm stainless steel cookware is a full-clad construction made from a 3mm think 5 layer steel.  Advantages:
Thin steel will have more challenges in even heat distribution
Thin steel will not have the capacity to store the energy needed to sear the meat
Thin steel may warp due to heat differences and/or fast heat/cool time
A full-clad 5 layers 3mm thick is a superior construction providing even heat distribution, quick respond to the changes, storing energy to allow good sear, better tolerate against warping
Point 4: Stainless Steel vs. non-stick coating
Gunter Wilhelm stainless steel cookware doesn't have any coating.  The benefits:
Gunter Wilhelm heavy-duty-quality stainless steel is non-reactive to your food and therefore will not change the taste of the food
Better for people with allergies
Will last longer than the standard coated cookware
With good cooking skills, a quality stainless steel cookware requires minimal maintenance, save you money and won't have the potential of harmful chemicals leaking into your food.
Point 5: Stainless Steel vs. caste iron cookware
The benefits of Stainless Steel vs. cast iron
Stainless steel is lighter
Less to maintain and care (stainless steel can go into the dishwasher, and won't rust). Also, no need to season the pan as you must do with cast iron
Good 5 layers stainless steel have a faster and better heat distribution
Gunter Wilhelm Stainless Steel have mirror-finish without pores like a cast iron cookware have. This means that:

It is better for people with allergies
It will not change the taste of your food, example:  acidic ingredients, like tomatoes or vinegar, may get a darker color or metallic taste in cast iron
You will not taste whatever was absorb in the pan form the previous cooking.
Point 6: Rivet-less
Gunter Wilhelm cookware is rivet-less which makes the cleaning faster and prevents the accumulation of food leftover under the rivets.
Point 7: Induction ready
Gunter Wilhelm cookware is constructed form heavy-duty-quality materials that are induction ready.   You may use our cookware on gas, electric stoves or induction cooktops.
Gunter Wilhelm Stainless steel in the media:
About Gunter Wilhelm
Incorporated in 2002, Gunter Wilhelm is accepted and recognized by professional chefs, celebrities and home cooks as an innovative and remarkable cutlery and cookware brand, combining high quality, advanced features and superior performance.
Press Contact
Name: Daniel Schwartz

Phone: 201-399-2917

Email: dannys@gunterwilhelm.com

Website: www.gunterwilhelm.com
Original Press Release.