Where Will Artificial Intelligence Take Us?
July 17, 2018 at 05:30 AM EDT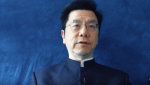 Kai-Fu Lee, a Taiwanese venture capitalist, technology executive, writer, and computer scientist discussed the latest developments in artificial intelligence and what's in store for the future of AI. "The question I ask myself just like any human being is 'Who am I and why do I...