Gunter Wilhelm first class ProCook cookware is the best choice for you, your family our environment and the wallet.
United State of America (PRUnderground) July 22nd, 2018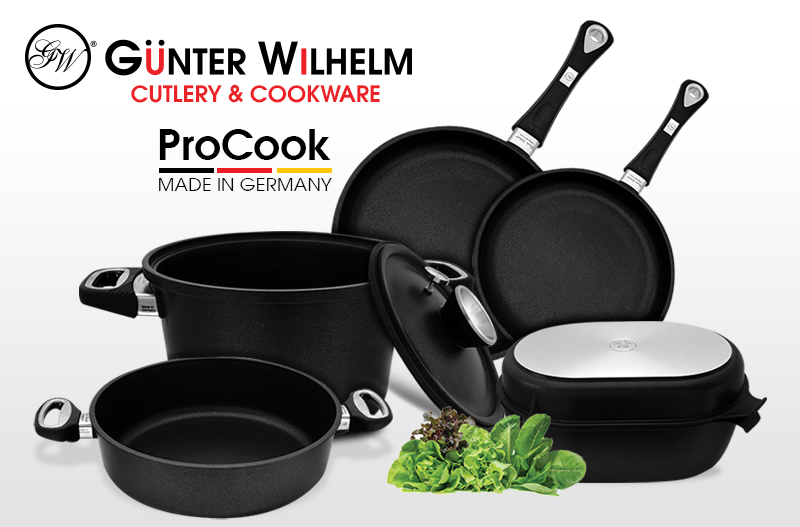 Gunter Wilhelm first class ProCook cookware is the best choice for you, your family our environment and the wallet.
Professional chefs, and passionate home cooks around the world accepted, recognized and benefit daily from our excellent quality, innovations and features of our products
The Gunter Wilhelm ProCook German Cookware collection combine tradition, master craftsmanship, innovation, modern technologies and top-grade materials to create an outstanding premium quality culinary experience to our customers
Our Cookware was developed in collaboration with the German National Culinary team, creating outstanding performance and features. Thanks to the Aluminum's best heat transition, the body construction and warp free casted bottom, the ProCook Cookware is the first of its kind to have CLASS A energy efficient certification.
The non-stick coating is FREE of solvents and 100% PFOA Free for Maximum food safety requirements and to prevent allergies. Cleaning the ProCook Cookware is easy, which reduce your water consumption as well as helps save one of our planets most precious natural resources – water, and your hard earned money. Moreover, our cookware is recyclable.
Feature:
Heavy Duty Hand Cast Aluminum for the best heat transition
New revolutionary non stick coating technology for gastronomic applications
ProCook Collection  
Sauteuse (9.5″) with Exclusive handle
Square Grill /BBQ Pan (11" x 11″) – 5QT
Milk & Sauce Pot (8″) – 4QT
Sauce Pot 8.6QT – with Glass Lid
Stock Pot 12.6″ x 8.2″
Gunter Wilhelm thank you for your trust in our products and we hope to be instrumental in your kitchen experience
Gunter Wilhelm ProCook German Cookware Recommended by:
German National Culinary Team
German Chef Association
Euro-Toques
European Union Of Chefs
About Gunter Wilhelm
Incorporated in 2002, Gunter Wilhelm is accepted and recognized by professional chefs, celebrities and home cooks as an innovative and remarkable cutlery and cookware brand, combining high quality, advanced features and superior performance.
Press Contact
Name: Daniel Schwartz

Phone: 201-399-2917

Email: dannys@gunterwilhelm.com

Website: www.gunterwilhelm.com
Original Press Release.