Consumer Confidence…As Good As it Gets?
September 05, 2018 at 10:52 AM EDT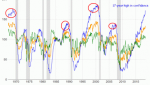 INVESTOR CONFIDENCE… OPTIMISTIC BUT NOT EUPHORIC By Doug Sandler, Chris Konstantinos & Rod Smyth, RiverFront Investment Group Nine years into the U.S. economic rebound, we have reached a milestone: In 50 years, consumer confidence has only been higher once (1998-2000). The open question is how...