Tickers: XTSX:SCA
Tags: Mining
PROGRAM GOALS - RESOURCE EXPANSION, NEW RESOURCE OPPORTUNITIES AND CONTINUED METALLURGICAL SAMPLING
Toronto, Canada / TheNewswire / October 24, 2018 - Savary Gold Corp. (TSX-V: SCA) ("Savary" or the "Company") is pleased to provide an exploration update for its Karankasso Project in south western Burkina Faso. Savary is the 74% owner and operator of the joint venture project.
The Company plans to commence a 70 hole, +5,000 m drill program in early November to follow-up the positive results of the drill program completed in June of 2018 (as highlighted below) as well as a few high priority targets as depicted in Figure 1.
Drill Program Targets - Based on previously released highlighted results1
Karangosso South Area*
-AC-18-79 - 1.81 g/t gold over 28 metres from 28 metres

-AC-18-82 - 5.12 g/t gold over 13 metres from 9 metres
Serakoro 1 West Area**
-AC-18-60 - 1.93 g/t gold over 10 metres from 22 metres - F North Zone (new)

-AC-18-77 - 5.81 g/t gold over 14 metres from 10 metres - D South Zone (new)

-includes 57.63 g/t gold over 1 metre

-AC-18-131 - 3.95 g/t gold over 3 metres from 11 metres - A zone

-AC-18-133 - 3.09 g/t gold over 8 metres from 25 metres - A South Zone (new)
Serakoro West North Area**
-AC-18-96 - 1.07 g/t gold over 8 metres from 12 metres (new)

-AC-18-100 - 1.56 g/t gold over 6 metres from 38 metres - SWN1 Zone (new)

-AC-18-112 - 3.84 g/t gold over 4 metres from 8 metres (new)

-AC-18-118 - 50.85 g/t gold over 1 metre from 13 metres and 2.44 g/t gold over 13 metres from 20 metres (new)
* widths are 70-75% of true width
** widths are approximate true widths
1 Savary News Release July 25, 2018
"The focus of the upcoming program is to expand resources and to continue to de-risk the project through the collection of a more complete suite of metallurgical samples of the principle zones" stated Don Dudek, President and CEO of Savary. "These targets continue to represent obvious expansion potential and therefore I anticipate continuing the trend of positive results, added Mr. Dudek.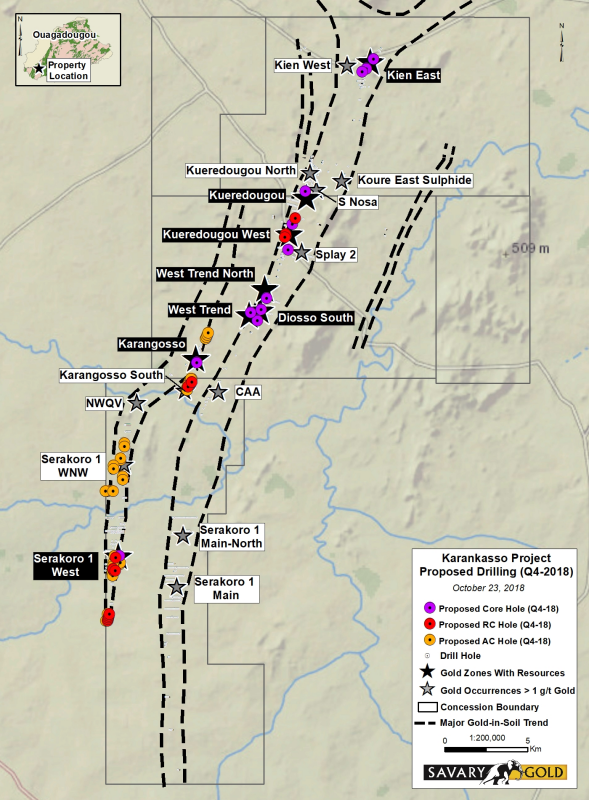 Click Image To View Full Size
The program will include approximately 3,750 metre of reverse circulation and air core drilling in 56 holes as well as 1,900 metres of core drilling in 12-13 holes. The core holes will test for higher grade mineralization at depth (approx. 150 m to 200 m below surface) at Kueredougou and Karangosso (see Figure 1 for locations), acquire additional structural information at all zones and collect a more complete suite of fresh rock metallurgical samples from all zones. The high-grade target at Kueredougou is an inferred structural intersection area where drilling returned 83.35 g/t gold over 4 metres, 48.00 g/t gold over 4 metres and 21.13 g/t gold over 4 metres. The high-grade target at Karangosso lies below an intercept of 6.73 g/t gold over 7 metres. All of the core holes will be completed using an oriented core tool that will facilitate the collection of structural data.
Metallurgical data to date has shown a wide range of fresh rock gold recoveries from 42% to 99% with the most recent work returning lower gold recoveries from several of the zones. Average, modelled fresh rock recoveries, as previously guided, range from 80% to 91%, depending on the resource zone. The metallurgical work to date comprised timed bottle roll tests and a combination of up to 8 year old core and RC chip material that were subjected to various grind sizes (some ulta-fine) and a variety of leach conditions. The current program will collect a fresh suite of representative core samples from the principle mineralized zones and subject this material to more uniform treatment and testing. It is expected that up to 30 metallurgical samples will be collected and then analysed in Q1, 2019. These samples will be used to refine our assumed average gold recoveries.
Stock Option Grant
The Company has granted a total of 1,930,000 stock options to various officers, directors and consultants. The options may be exercised at a price of $0.05 per common share for a period of five years from the date of grant. The company grants stock options from time to time to the various members of the board and management with a view to linking the interest of the directors and management with those of shareholders while keeping G&A expenses as low as possible. It is anticipated that during the financial year ending December 31, 2018 stock options are the only form of compensation to be received by members of Savary's board. The grant of options remains subject to the approval of the TSX Venture Exchange.
Savary is a Canadian exploration company focused on exploring and developing (its ~74% owned) Karankasso Gold Project in Burkina Faso. The Project is located within the Hounde Greenstone Belt, which hosts Semafo's Mana mine, Roxgold's Yaramoko Mine and Endeavor's Hounde Mine. The Project contains an Inferred mineral resource estimate* of 12.3 million tonnes (Mt) grading 2.03 g/t gold for 805,000 ounces. For additional information please visit our website at www.savarygold.com.
Don Dudek, P.Geo., President and CEO of the Company and a qualified person under National Instrument 43-101, has reviewed and approved the scientific and technical information in this press release.
* Open pit constrained and underground Mineral resource estimate presented in Savary news release dated November 2, 2017
For more information, please contact, Don Dudek, President and CEO at 647-259-2097: info@savarygold.com or visit our website at www.savarygold.com
Cautionary Notes
The potential to increase existing estimated mineral resources is conceptual in nature and it is uncertain if further exploration will result in the target being delineated as a mineral resource.
Neither TSX Venture Exchange nor its Regulation Services Provider (as that term is defined in the policies of the TSX Venture Exchange) accepts responsibility for the adequacy or accuracy of this release.
This news release may contain forward-looking statements. These statements include statements regarding the details of the potential value growth of the JV, the upside of the property, the drill program, the company's exploration plans and the timing of results, the focus on existing drill targets and new targets. These statements are based on current expectations and assumptions that are subject to risks and uncertainties. Actual results could differ materially because of factors discussed in the management discussion and analysis section of our interim and most recent annual financial statement or other reports and filings with the TSX Venture Exchange and applicable Canadian securities regulations. We do not assume any obligation to update any forward-looking statements, except as required by applicable laws.
Copyright (c) 2018 TheNewswire - All rights reserved.