What is ROS, and Can it Create a Universal Standard?
November 19, 2018 at 05:00 AM EST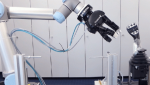 The biggest problem with robotics research, is that everyone is working towards an individual goal. Industrial robotics is such a competitive field that numerous countries and companies prefer to keep their research a secret. As a result, advancements rarely make their way to the factory floor....