How Will Artificial Intelligence Affect Income Inequality?
November 26, 2018 at 05:00 AM EST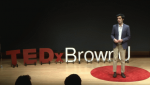 "Is this time different? Artificial intelligence is capturing the curiosities, hopes, and fears of people all over the country. Will AI spur extraordinary improvements in security, healthcare, and convenience all while creating new industries, boosting US productivity, and improving quality...