FGS 2018 Panel: AI & Machine Learning – Will the Robots Rise?
December 12, 2018 at 05:15 AM EST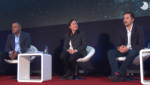 "Is 2018 finally the year AI technology turns from a concept to a reality at an enterprise level? In what form will these artificial intelligence products and solutions take and what challenges might we face from the rise of robotics? Deloitte's Gurpreet Johal and a panel of experts explored...