2018 in Review
Phoenix, AZ (PRUnderground) December 21st, 2018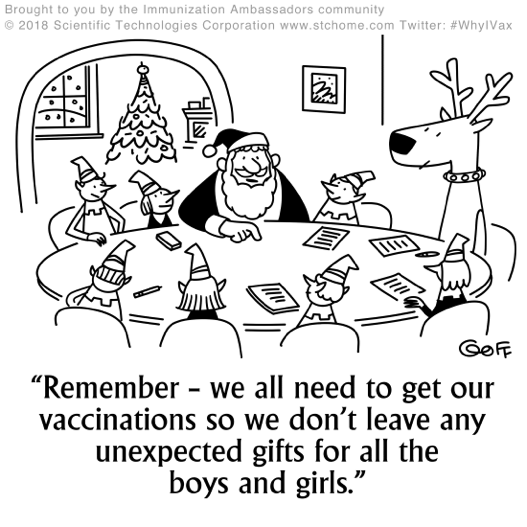 5. More Americans got a flu shot for this flu season than voted in the last Presidential election. 15 million more!
4. School nurses are "the TSA of disease prevention." STC Medical Advisor, Dr. Scott Hamstra pointed out for us, "the vaccinating of children is an overwhelming success, with fewer than 1% of American kids having gotten no vaccines at all." A major contributor to that success are all the school requirements for immunizations, and it falls to school nurses to enforce those requirements.
3. Pharmacy techs succeed as vaccinators: In March of last year, the Idaho legislature put a new law into effect, allowing pharmacy techs to administer vaccinations. Alex Adams, head of the Idaho Board of Pharmacy estimates that 'techs have now given 25,000 vaccinations with zero complaints to the Board of Pharmacy." Adams offered his assessment of what happens next: "I see this as expanding rapidly. Rhode Island has already joined in and Utah is close."
2. "The Vaccine Superhero": What do kids know about vaccinations? Just one thing: THEY HURT!  STC developed a new resource to educate and entertain kids as they wait to get vaccinated. It's free and everyone loves the copyright: Permission to reprint is hereby given to anyone administering vaccines to children. On one side of the "Vaccine Superhero" handout is a pair of cartoons and on the reverse side is the education part, a kid-friendly discussion of vaccinations. "It's not a shot; it's a superpower." Free downloads at https://stchealth.com/2018/01/12/itsnotashotitsasuperpower/
1. Autism Research Enters the Debate Over the Role of Vaccines. We have a new ally in the debate with those who are anti-vaccination – autism research. Some findings:
Autism can often be detected prior to the MMR vaccine, and probably begins before birth.
Many eager scientists have tried to find a link between vaccines and autism and have failed. Moreover, that there is no logical mechanism for vaccines to "turn on" autism, while a genetic connection makes sense.
Autism organizations are supporters of vaccinations. (For example, see the website of the Southwest Autism Research & Resource Center at
More "What We Learned" at https://stchealth.com/?p=3966
To go along with the report on pharmacy techs, the Immunization Ambassadors released a new cartoon offering a lighthearted look at the need for flu shots.
About Scientific Technologies Corporation
Tens of thousands die each year from the flu. New measles cases occur even though it was all but eradicated. Whooping cough still kills the young. These and many more diseases are diminished through the use of vaccines, public health prevention programs, and data intelligence. STC, through our innovative technology solutions and consultancies, is on the front line of this battle with its mission to create a healthier future. Ideas Start Here!
Press Contact
Name: Lara Popovich

Phone: 480-745-8500

Email: marketing@stchome.com

Website: www.stchealth.com
Original Press Release.