Are Robots the Future to Destroying Sea Mines?
January 23, 2019 at 08:00 AM EST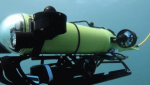 "Back in July last year Shaun spoke about the U.S. Navy testing underwater drones in last years navel tech exercise, to watch the video just click on the link that has just popped up. Well, one of the drone companies the Navy were testing is called Aquabotix and it seems that the drones have...