Mako managed network appliances and services are now available to all Sinclair dealers.
Elgin, IL (PRUnderground) February 19th, 2019
Mako Networks has signed an exclusive agreement with Sinclair Oil Corporation to deliver PCI-compliant managed network appliances and services to Sinclair dealers nationwide. Dealers will acquire Mako's services directly from Sinclair.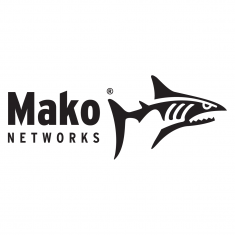 Sinclair will deploy Mako's newest 6600-M/LTE appliances. With a sealed, tamper-proof case, no moving parts, and high heat tolerance, the 6600-M is well suited to the tough network environments found at petroleum retailers. Performance advantages over previous models include higher throughput and a dual-SIM LTE module. The Mako solution provides fast failover from broadband service to the Mako's built-in cellular LTE connection, allowing dealers to maintain full network operation during broadband service outages.
Sinclair dealers with Gilbarco Passport and Verifone Commander POS systems will receive Mako's manufacturer-certified MNSP services for those systems which allows dealers to eliminate the SZR for Gilbarco Passport systems and the EZR for Verifone installations, simplifying site networks. Additionally, dealers using Gilbarco will no longer need a Micronode when using Mako, speeding up transactions for Passport users.
"We are thrilled to partner with Sinclair Oil to ensure that one of the oldest names in the petroleum industry has the newest and best technology available today," said Simon Gamble, President, Mako Networks. "Their confidence in the Mako System speaks to its proven security, speed, convenience, and value benefits for large-scale businesses."
To inquire about Mako managed network appliances and services for your distributed enterprise, contact Mako Networks at sales@makonetworks.com or 800-851-4691.
Sinclair dealers wanting to take advantage of Mako technology at their Sinclair locations should visit https://makonetworks.com/sinclair/.
About Sinclair Oil Corporation
Sinclair is a privately held Wyoming company with executive offices in Salt Lake City and more than 1,200 employees across several states. Sinclair owns and operates two refineries in Wyoming along with a network of both crude oil and finished-product pipelines and terminals in the Rocky Mountain and midcontinent regions. The company markets fuel in 24 states, supplying high-quality fuels to more than 1,300 branded stations, featuring DINOCARE™ TOP TIER™ Gasoline. Sinclair Oil and Gas Company manages its exploration and production portfolios by only participating in major oil and gas development projects in the United States. Sinclair also owns and operates The Grand America Hotel in Salt Lake City, the Little America hotel chain, The Westgate Hotel in San Diego, Sun Valley Resort in Idaho, and Snowbasin Resort in Utah. For more information, visit SinclairOil.com and follow the brand on Facebook, Twitter and Instagram.
About Mako Networks
Mako Networks provides simple, secure, PCI-certified networks for distributed enterprises. Operating internationally from offices in Elgin, IL, London, Melbourne and Auckland, Mako integrates cloud management and reporting, SD-WAN, Wi-Fi, 4G/LTE failover, VPN Cloud, firewalls, end-to-end PCI DSS certification and content filtering into one, easy-to-manage system. For more information, visit www.makonetworks.com.
Press Contact
Name: Timothy Lang

Phone: 847-628-4245

Email: timl@makonetworks.com

Website: www.makonetworks.com
Original Press Release.