Trump Finally Announced a Plan for AI Dominance, but Is It Enough?
February 22, 2019 at 08:00 AM EST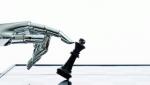 By Travis Briggs, CEO, ROBO Global It's no mystery that the majority of corporations already view AI as a must-have competitive tool in the race toward market leadership. As industry after industry has felt the critical impact of AI-driven disruption, companies large and small have made AI programs...