How Much Dexterity Does a Robot Need?
February 25, 2019 at 08:00 AM EST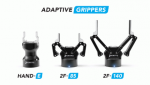 By Alex Owen-Hill What does it mean when a robot is described as "dexterous." And what does it mean for robot users? Here's what to look for when you're selecting a robot based on its dexterity. Start Production Faster with Robotiq Grippers. The word...