Mako Networks and CBE, Inc. Extend Partnership to Offer Greater Security and Control to Enterprise Retail Customers
Mako and CBE expand scope of services offered and vertical markets served.
(PRUnderground) March 13th, 2019
Mako Networks and CBE, Inc. have expanded the scope of their 3-year partnership to add a broader range of Mako services to CBE's portfolio of retail solutions and to offer Mako services to additional vertical markets. Since 2016, CBE customers have been able to purchase the Mako System integrated with CBE's turnkey petroleum solutions. Having built a successful partnership in the petroleum space, CBE is now including the Mako System for all customers who want to streamline their networks with flexible SD-WAN capabilities and add powerful PCI security backed by the first-class support of CBE.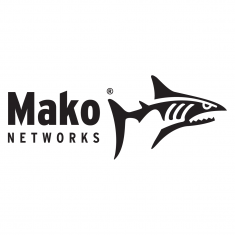 CBE will offer complete solutions that include the Mako System to distributed enterprise customers such as retail chains, restaurants, healthcare networks, and franchises. CBE intends to leverage the Mako System to create simple, secure, Payment Card Industry Data Security Standard (PCI-DSS) certified networks that take advantage of Mako's easy-to-use cloud-based Central Management System (CMS) to allow CBE and end user administrators to manage network connections at thousands of sites through a single web interface without jeopardizing the networks' PCI-compliant status. The solution CBE is presenting includes both Mako 6500 and 6600-series appliances, and offers built-in Wi-Fi and Mako Guardian content filtering and reporting, single/dual-SIM 4G/LTE cellular failover, VPN Cloud technology, and automated 24×7 monitoring.
The partnership between Mako and CBE recently gained ground in the restaurant vertical with successful CBE-led implementations at over 200 fast casual restaurants in the Southeast. These fast-paced and fast-growing restaurant franchises required simple solutions to reduce the complexity of their data security and network management needs, and the Mako System as offered by CBE accomplished this while also future-proofing their locations and allowing plenty of room to grow. Mako and CBE plan to carry this momentum into additional quick serve restaurant chains and general retail throughout 2019.
"Expanding this partnership is a logical next step for CBE," said Loring White, CEO of CBE, Inc. "We have provided industry-leading technology solutions to petroleum and C-store customers for many years. As their network environments evolved and their needs changed, we recognized Mako Networks as a great managed firewall solution. As we learned more about it, we also found that Mako's cloud managed-network appliance combination offers a unique way to ensure our customers' networks are secure and PCI-DSS compliant while still providing easy VPN connectivity for store communications and digital video, which led to our interest in expanding into additional vertical markets with Mako."
Jason Kubasak, CEO of Mako Networks, says "The partnership between Mako and CBE is exciting because of the fit. CBE's extensive history and understanding of petroleum industry needs has been an invaluable resource for us when deploying for Mako customers like Chevron, BP, Sinclair, and Citgo. Their highly qualified field-based tech presence gives us accelerated deployment capability and a strong customer-facing field presence. We are excited to see the partnership expand and look forward to growing our current petro-centric relationship with CBE and fully supporting their new outreach toward non-petroleum customers as well."
To inquire about partnership opportunities or about the Mako System, contact Mako Networks at sales@makonetworks.com or 800-851-4691. To reach CBE, email info@cbe-inc.com or call 800-447-7038.
About CBE, Inc.
CBE is an industry leader in point-of-sale (POS) solutions and security products with expertise to develop systems based on specific business environments. While many of CBE's customers are part of the C-Store industry, our client base includes restaurants, clothing stores and unique specialty shops.
Headquartered in Montgomery, Alabama, CBE business is far reaching with customers and employees throughout the United States. CBE's sales experts listen to the customer and develop a system that best fits the requirements and budget of their business. CBE also has a team of highly trained technicians and support staff to provide professional installations and service. For more information, visit www.cbe-inc.com.
About Mako Networks
Mako Networks provides simple, secure, PCI-certified networks for distributed enterprises. Operating internationally from offices in Elgin, IL, London, Melbourne and Auckland, Mako integrates cloud management and reporting, SD-WAN, Wi-Fi, 4G/LTE failover, VPN Cloud, firewalls, end-to-end PCI DSS certification and content filtering into one, easy-to-manage system. For more information, visit www.makonetworks.com.
Press Contact
Name: Timothy Lang

Phone: 847-628-4245

Email: timl@makonetworks.com

Website: www.makonetworks.com
Original Press Release.