Fallen Angel Watch: A Coming Wave of Downgrades?
March 15, 2019 at 08:00 AM EDT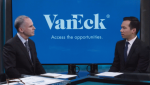 At the height of the extended bull market, risky less-than-investment-grade bonds were in vogue with their attractive yields, particularly in a rising rate environment, but BBB bonds that are on the cusp of high yield status could be facing a liquidity crisis, according to a recent CNBC report. As...