Mako Networks to service all Cicis restaurants, upgrade Mako hardware, and increase cellular data transfer speeds.
(PRUnderground) April 9th, 2019
Mako Networks will deliver PCI-compliant managed network appliances and services to all 430+ Cicis restaurants nationwide, expanding a successful relationship where Mako appliances are currently in use at half of Cicis locations.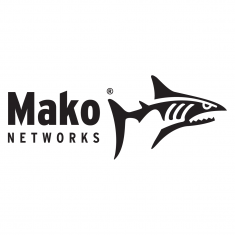 All Cicis restaurants will now deploy Mako 6500-M/LTE appliances with 1Gbps transfer speed technology. To get the most out of this new hardware, each location will also be upgrading to a Gigabit LTE cellular data plan, provided by either Verizon or Sprint.
Built with the Payment Card Industry Data Security Standard (PCI DSS) in mind, the Mako 6500-M/LTE allows businesses to quickly and easily segment their payment networks, apply strict security controls, and lock down their systems to PCI DSS criteria. With a sealed, tamper-evident unit, no moving parts, and high heat tolerance, it is well suited to the tough network environments found at restaurants.
"A key feature of the Mako System that stood out as we were choosing the best fit for the Cicis network is the ability to implement the shared PCI-compliance template on Wi-Fi connections," said Cicis Network Security Engineer John Tilton. "This is a critical requirement for Cicis as we transition to new wireless tablets for all point of sale devices."
"The Mako System's integrated cellular backup performance is second to none. It provides fast failover from broadband service to a built-in cellular LTE connection, which will allow our restaurants to maintain full network operation during broadband service outages," added Cicis Senior Network Engineer Chuck Taylor. "Being able to offer that kind of seamless service for our guests was a major deciding factor for Cicis."
"Mako Networks is aggressively expanding its presence in the restaurant industry, and we appreciate this huge vote of confidence from Cicis," said Jason Kubasak, CEO, Mako Networks. "Cicis is doubling down on its investment in the security, performance, reliability, and advanced features of the Mako System based on the positive results of our partnership to date."
To inquire about Mako managed network appliances and services for your distributed enterprise, contact Mako Networks at sales@makonetworks.com or 800-851-4691.
About Mako Networks
Mako Networks provides simple, secure, PCI-certified networks for distributed enterprises. Operating internationally from offices in Elgin, IL, London, Melbourne and Auckland, Mako integrates cloud management and reporting, SD-WAN, Wi-Fi, 4G/LTE failover, VPN Cloud, firewalls, end-to-end PCI DSS certification and content filtering into one, easy-to-manage system. For more information, visit www.makonetworks.com.
Press Contact
Name: Timothy Lang

Phone: 847-628-4245

Email: timl@makonetworks.com

Website: www.makonetworks.com
Original Press Release.