Is The Fed Likely To Cut Rates At The Next Meeting?
October 17, 2019 at 17:53 PM EDT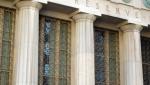 New evidence has been mounting that the Federal Reserve could soon take a break in its latest rate-cutting cycle, and, depending on economic data and developments in trade talks, that could happen at, or more likely, after the Oct. 29-30 meeting, say experts. Chicago Fed President Charles Evans,...