Is There Too Much Froth in the Safe, Steady Healthcare Sector?
January 09, 2020 at 11:27 AM EST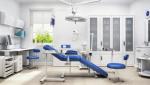 The healthcare sector has been a sure, but steady performer and a common safe haven sector when stocks head to the downside, but will future regulatory risks expose too much froth via overvaluation in the sector? One prevailing factor to watch is the upcoming 2020 elections, which could affect the...