Starting Today - and Continuing Through the Duration of the Coronavirus Pandemic - The Leading Food Wholesaler Will Offer Its Extensive Inventory of Food Items to More Than 644 Zip Codes Across the North East
(PRUnderground) March 24th, 2020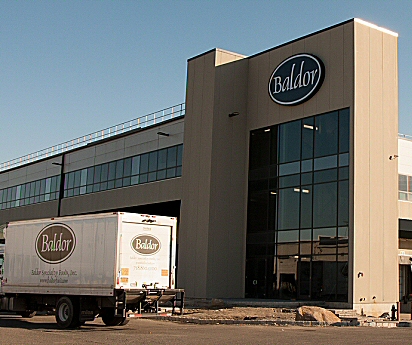 Baldor Specialty Foods, one of the largest wholesale importers and distributors of fresh produce and specialty foods in the Northeast and Mid-Atlantic regions, announced today that it will be expanding its home delivery service into the Boston and Philadelphia metro-areas and making its vast inventory of thousands of fresh produce and other food items available for consumers to order online.
The program is an extension of an at-home delivery service the distributor piloted last week to consumers around New York City. Baldor, which typically services about 10,000 restaurants and foodservice establishments, rapidly switched to make home delivery a viable option as restaurants and bars are restricted to take out and delivery service.
"We were impressed by the level of interest in New York, it just made sense to offer the same convenient service to people residing in some of the other large markets we service," said Baldor's CEO, TJ Murphy. "We're keeping our employees busy, our food moving through the supply chain, and most importantly, providing a valuable service to customers in the communities we serve who prefer to have their food delivered during these challenging times."
Baldor Boston and Baldor Philadelphia will both begin taking orders from area consumers today, Tuesday, for home delivery on Wednesday. Consumers roughly within a 15-mile radius of Boston and Philadelphia will now have access, as well as a 50-mile radius around New York City which began last week.
Baldor's at-home delivery program aims to help alleviate grocery store food shortages and provide a convenient option for consumers who desire to stay put at home.
With a minimum order of $250 (tax and delivery included), consumers will be able to order the foods they need the most – including fresh produce, meat and poultry, dairy, and other food staples. The company plans to leverage its website, large fleet of trucks, army of drivers, and its extensive network of farms and specialty food vendors to serve consumers in the New York, Boston, and Philadelphia metro areas.
"As large a company as Baldor is, we continue to pride ourselves at being nimble and able to move quickly for our customers," said Benjamin Walker, Baldor's Vice President of Sales and Marketing.  "Our food logistics are some of the best in the country and it would be a shame for it not to be of good use during this time in our history.  We are excited to be able to share our service with New York, Boston, and Philadelphia-area consumers who are staying at home and doing their part by practicing social distancing."
Baldor's team of professional delivery associates will make the home deliveries while on route to and from the local restaurants and foodservice establishments they continue to serve.
To sign up for this temporary at-home food delivery service go to http://www.baldorfood.com.
About Baldor Specialty Foods
Baldor Specialty Foods is one of the largest importers and distributors of fresh produce and specialty foods in Northeast and Mid-Atlantic regions. Beginning as Balducci's fruit stand in Greenwich Village in 1946, Baldor maintains its original promise – curate and deliver the best and freshest foods in the world. Baldor seeks to provide great specialty foods and logistics that give their customers an edge.
To learn more, go to www.baldorfood.com.
Press Contact
Name: Lynn Munroe

Phone: 845-548-1211

Email: lynn@maracaibomedia.com

Website: http://www.baldorfood.com
Original Press Release.