Will the Fed's Strategy of Buying High Yield ETFs Save the Bond Market?
April 17, 2020 at 11:00 AM EDT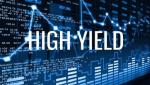 To help shore up the economy, the Federal Reserve is stepping in to purchase risky assets like high yield bond exchange-traded funds (ETFs). Will this strategy add some stability to the bond markets? With a number of companies getting downgraded from investment grade to high yield status, the Fed...