Can Japan Weather the Economic Storm from COVID-19?
April 22, 2020 at 10:44 AM EDT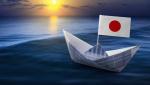 Even when the COVID-19 cases start to dwindle around the globe, the real effects of the virus will surface with regard to their economic impact. Can countries like Japan, the third largest economy in the world, be able to weather this economic storm? "The economic challenge for Japan is...