Will the Bank of Japan Follow U.S. Fed's Bond Buying Strategy?
April 24, 2020 at 10:55 AM EDT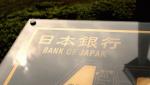 With the U.S. Federal Reserve providing a much-needed backstop in the bond market with corporate and high yield bond purchases, the Bank of Japan may follow suit. The Bank of Japan may remove a cap on government bond purchases at its next policy meeting scheduled on April 27 to help shore up the...