Is the Global Economy Set for a 2.6% Contraction This Year?
May 13, 2020 at 10:47 AM EDT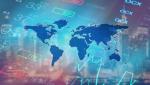 As expected, the coronavirus pandemic will tamp down any positive growth expectations for the global economy. As such, the Korea Institute for International Economic Policy (KIEP) forecasted that the global economy will contract 2.6 percent in 2020, which represents a fall of 5.8 percentage points...