Will a Pandemic Recovery be Dependent on Municipal Bonds?
May 20, 2020 at 10:53 AM EDT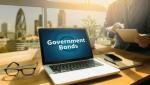 The Federal Reserve is doing what it can to shore up the bond markets, but one submarket it shouldn't forget is municipal bonds. A pandemic recovery could be predicated on how the muni space reacts in a post-coronavirus world. "The municipal bond market has for decades served as a vehicle for...