Low Global Short-Term Interest Rates Good for Growth, Bad for Income?
May 25, 2020 at 12:00 PM EDT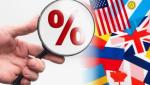 This week's big number is -1.33% — the cumulative change in global short term interest rates, as set by each country's central bank, since the start of 2019. During last summer's U.S.-China trade war, central banks were very active in lowering rates. But as tensions calmed and the two nations...