Can Value Investing Still Thrive in a Post-COVID World?
June 03, 2020 at 12:59 PM EDT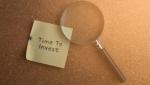 With economies around the globe looking to reopen, the growth factor could be back in the driver's seat following a decade-long bull run. However, with value back in the fray following the pandemic sell-off, can it still thrive in a post-COVID world? "I have not thought about investing any...