First original release in 18 months wins #1 Kiss FM Australia, #30 Essential Tech Traxsource, Hype Chart Traxsource & 40 Spotify Playlists.
(PRUnderground) August 25th, 2020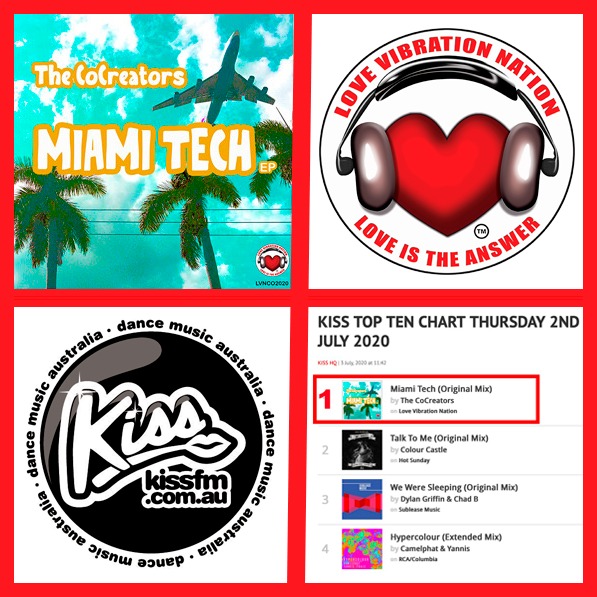 The Grammy nominated electronic music group The CoCreators released their first original music in 18 months and scored major victories with a number 1 on Kiss FM Australia and numerous positions on Traxsource. To date of this release, 40 Spotify playlists have included Miami Tech on their track lists.
Released on their label group Love Vibration Nation R3UK, which is distributed by Sony, MN2S and K Digital in Asia. The label bosses have been releasing many high profile remixes with great success internationally lately but havent had any new material of their own in over a year.
The Miami Tech EP was immediately well received by their dance music community peers with support by Alaia and Gallo, Horsemeat Disco, Slam DJs, Pitch Up Magazine, Kiss FM, Koast FM, Mr. V, Lazaro Leon from Billboard, Global Dance Session, Air Gay Radio, 100 FM Tel Aviv, Radio FG Belgium, Vanilla Ace and dozens more supporters.
The Links to the release are here:
A Link to The CoCreators interview on Kiss FM Australia with Timmy Byrne can be found here:
Kiss Interview The CoCreators go #1
"It's really nice being back and being recognized with our latest release. We appreciate all the love and support from everybody." Says The CoCreators. "This was definitely an underground funky tech house release that had a very simple but original concept behind it. The EP is based off of the club and music scene in Miami where everybody comes together, all races, all creeds and all people behind the music. The music scene in Miami is like a living thing, a harmonious thing. It's the only place in the world where people don't get mad when you're stuck in traffic. You might be shooting out of a spot like Club Space at around noon Sunday, stuck in traffic on Collins Avenue in South Beach, yelling to strangers in the car next to you, asking where the next party is. When we wrote the title track, Miami Tech, we channeled that stuck in traffic scenario, remembering how we heard some tunes for the very first time from cars that were next to ours with the top down. We would like to thank Miami for the inspiration for this release and all the great memories we have had over the years." 
The warm response to The CoCreators Miami Tech EP has inspired the group to go right back into the studio for their next EP. "Because of Covid 19 outbreak, the touring opportunities are not available at the moment. We have a unique opportunity to be in the studio, embracing the creative process and putting out music more consistently than in the past. New music will be our silver lining while we wait for the world to return to normal. Much love to all of our fans!"-The CoCreators
About The CoCreators
The CoCreators own and operate Love Vibration Nation R3UK, A label group distributed by Sony, MN2S and K Digital in Asia. They have scored over 60 total chart positions since 2016 and are Grammy Nominated artists. The CoCreators popular #LoveIsTheAnswerRadioShow is broadcast on Kiss FM Australia, My House Radio in New York and Data Transmission Radio in London. The Show reaches over a million listeners a week across all stations and platforms. The CoCreators are commited to making positive dance music that helps them push the global message of "Love Is The Answer."
About Love Vibration Nation Music and Publishing LLC
Love Vibration Nation Music and Publishing LLC is a record label and publishing company specializing in House Music. We are members of the American Society of Composers, Authors and Publishers (ASCAP) since 2016. Asian publishing rights are contracted with KDM publishing. The label's music is distributed under Sony Music Group umbrella & MN2S and is aggregated to 400 plus of the top stores and music streaming services around the world.
Love Vibration Nation Music and Publishing LLC is the home of The CoCreators.
Love Vibration Nation solely operates and owns sub Label R3UK, specializing in underground house and techno music genres.
Press Contact
Name: Marco DiCristo President

Phone: 305-417-8180

Email: Contact Us

Website: http://www.lovevibrationnation.com
Original Press Release.