Should Apple's Stock Split Matter This Much?
September 03, 2020 at 13:18 PM EDT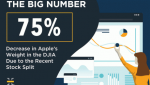 At the close of business last Friday, August 28, 2020, Apple (AAPL), the first company to ever reach a market cap of $2 trillion, split its stock 4-for-1 effective for the following Monday's trading session. This is its fifth split since going public in 1980. Apple's stock price went from just shy...