Will the Rise of ETFs Spell Doom for ETNs?
October 06, 2020 at 11:14 AM EDT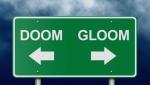 Exchange-traded funds (ETFs) may have the spotlight, but the lesser-known exchange-traded note (ETN) should not be forgotten — or is that exactly what is happening in the capital markets right now? The rise of ETFs could be spelling doom for ETNs, which have experienced a number of closings...