Will Investor Demand Lead To FOMO In the Gold Miners?
October 14, 2020 at 09:44 AM EDT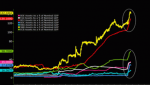 By Toroso Investments After recent years of consolidation, gold and precious metal mining ETFs are up about 30-40% YTD, which is a great set up for investor FOMO. To explore this possibility, the ETF Nerds have invited Otavio "Tavi" Costa @TaviCosta into the Portfolio Manager Hot Seat during the...