BCM 3Q20 Market Commentary: Damn the Pandemic! Batten Down the Economy and Full Steam Ahead!
October 15, 2020 at 06:00 AM EDT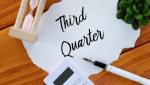 By The BCM Investment Team With apologies to Admiral Farragut… The S&P 500® Index's 8.5% third-quarter gain was a welcome response to the first half of the year's histrionics. The quarter had its own volatility as the markets flirted with a 10% correction, but then resolutely continued climbing...