China: Catalyst or Compromise?
October 15, 2020 at 14:03 PM EDT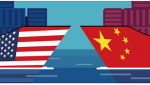 By Dan Weiskopf, ETF Professor, Toroso Investments In the ETF Think Tank, we do not avoid awkward conversations. Sometimes important decisions are made when people are uncomfortable. In that regard, this week we decided to take on the discussion of US / China tensions. Our goal is not to get...