Unhappy with or Skeptical of TAA?
November 02, 2020 at 12:52 PM EST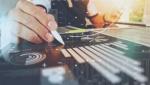 By Rob Brown, Ph.D., CFA, Julex Capital Advisory Board Member "Advisors tend to be somewhat skeptical about Tactical Asset Allocation. A large part of this skepticism stems from a misunderstanding about the role of tactical strategies within a portfolio. In this webinar, Dr. Rob Brown explains...