Cause of the Bear Market: An Election or a Tech Bubble?
November 04, 2020 at 11:29 AM EST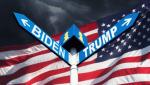 So, here is the big question: Why aren't more long-term investors financially independent? The short answer is… because of the substantial losses that comes from the inevitable Bear markets. In other words, traditional investing cannot adapt to difficult market environments. As a result, high...