Looking for an ETF Alternative to Annuities?
November 10, 2020 at 11:04 AM EST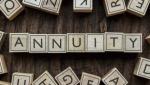 With retirement planners and retirees themselves scrambling for more income, annuities are getting more looks. However, investors can shore up income streams and complement annuities with the Nationwide Risk-Managed Income ETF (NYSEArca: NUSI). NUSI is an actively managed portfolio of stocks...