Are Your Retirement Portfolio Gains Stagnating?
November 13, 2020 at 10:08 AM EST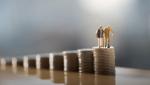 Too often, retirees rely heavily on dividends from equities and interest payments from bonds for income, but there are avenues for energizing retirement income, including the the Nationwide Risk-Managed Income ETF (NYSEArca: NUSI). NUSI can act as a complement to traditional equity and fixed income...