Can ESG ETFs Sidestep the Tech Sector Rotation Drawdown?
November 12, 2020 at 19:44 PM EST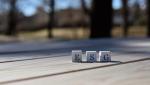 As investors rotate out of technology, it might seem that the ESG arena would not be affected, but the two are more correlated than one might think. Since the popularity of ESG has skyrocketed in recent times, big tech was quick to incorporate sustainability in their business operations. As such,...