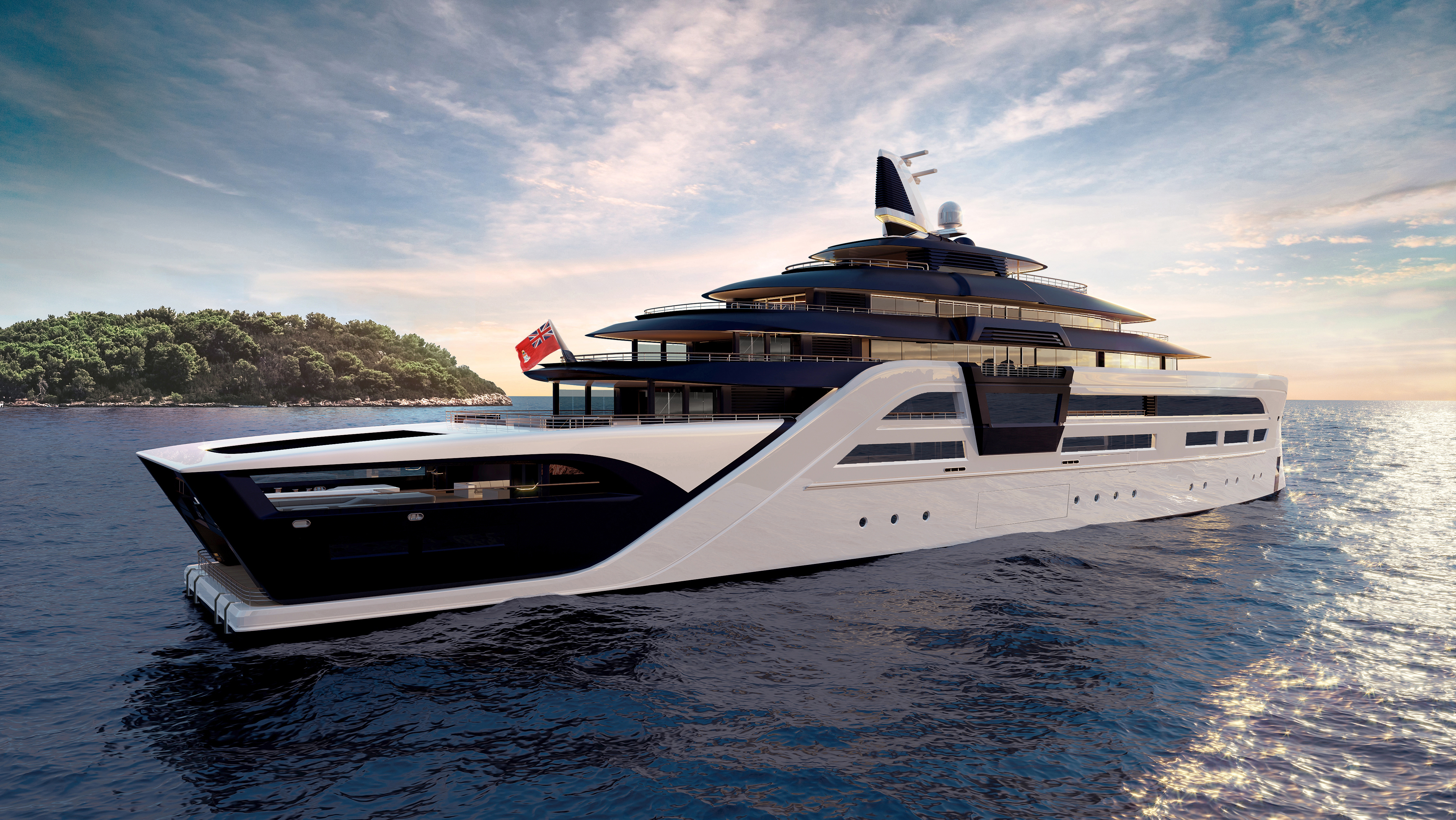 Explore the seven seas in style while respecting nature.
Berlin, Nov 21, 2020 (Issuewire.com) - Elegant, having a powerful profile and a sustainable and green essence.Beautiful and opulent, yet efficient enough to reach the most remote places. The name is the embodiment of these two key features. The concept aims to achieve Ultra quality in both style and eco-friendliness. The finest materials and workmanship, in the interior as well as in the construction, make the theUltra2 concept Superyacht a gem of modern design, engineering, and privacy. A relaxed mood of comfort and serenity comes from luxurious bespoke interiors and solid construction quality.

The interiors are inviting and luxurious. Cabins and public spaces are trimmed in T. Fotiadis' recognizable signature use of the highest quality interior materials, fabrics and furniture.

Interiors that tell a story, with soul and character, where oversized window panels create
breathtaking views, seamlessly merging with the elements. Clean expressive lines that highlight hull silhouette and chamfers, characterize the exterior, give the feeling of a robust masculine design, ensure a quiet stable ride in any waters.
One of the innovations aboard Ultra2 is the unique safe 'core' that combines a contemporary suite with an extraordinary diplomatic-grade secure-meeting environment, for the ultimate expression of security and 'connected seclusion' while offering both economy of space and peace of mind. From the construction process to the operational running of the yacht, Ultra2's cutting edge security and privacy technology is supported by military standard counter-intelligence protocol and crew training. This ensures that the human element of privacy and security is as impenetrable as the technological element.
At the heart of this beautiful and secure Superyacht lies the awareness of our obligation to nature.

The ship is driven by the all-electric Azipod propulsion system and is powered by hybrid
diesel-electric motors. Methanol fuel cells operate continuously and provide high
performance to keep the puffer batteries charged and ready for action. During port
operations, like in breaks or when cruising at low speeds, the methanol fuel cells charge the puffer batteries. This means that there is always enough energy for both the electric motors and all ship's systems.

This remotely monitored, environmentally friendly power solution reduces significantly the
ship's thermal and acoustic impact and minimizes the need for service and maintenance.
The collective knowledge of generations of engineers and boatbuilders has given rise to a
the classical structure that fully belongs to modernity.

Ultra2 is the ultimate ready-to-build concept that uses the best-proven technologies from
skilled teams, that support T. Fotiadis Design with their knowledge and experience gathered from past projects.

This concept is standing on the shoulder of giants.
Ultra2 welcomes you to explore the seven seas and coexist harmoniously with them.
The Ultra2 runs smoothly, comfortably, and efficiently while remaining committed to reducing our environmental footprint. It is a modern classic with an eye for a cleaner future.
As the next generation of Superyacht designers, we should ensure that the Oceans and all
aquatic life animals are treated in the best way possible and Ultra2 is our answer.
We are building the future now.
T. Fotiadis Design GmbH
Specializing in Superyacht & Architecture design, T.Fotiadis Design GmbH provides bespoke design.
The studio won, in 2018, the Design at Al. Yacht & Aviation Award thanks to the Superyacht Vitality.
T.Fotiadis has also recently signed the Superyacht Stormbreaker and the public space of the Alexander Tower. Once
completed, the tower will be the highest residential skyscraper in Berlin.

Hoch3 Consulting

Hoch3 Consulting is specialized in high-end visualizations and 3D animations.
The renderings and fly-through animation of Ultra2 have been done by Hoch3 Consulting.
The Berlin-based company has been working with interior designers, architects, real estate developers as well as shipyards, helping them facilitate and define their original ideas.
www.hoch3consulting.net

Luxury Dressing by Dahlgren Duck
www.dahlgrenduck.com

The UK company Romeo Foxtrot will take care of the security during the project construction and training the onboard
personnel.
https://romeofoxtrot.co

PDP Projects Ltd are the trusted partner for the safe room.
www.pdpprojects.co.uk
Ultra2 specifications
Loa:..............95 m
Width:..... 14.20 m
Draft:.........5.20 m
GRT.............4450
Passenger.......14
Crew................26
Engines 2x Cat 3512 - 1340kW at 1800rpm IMO3
Fuel cell unit 2x 10 modules -600kW
Azimuth Thruster 2x1700kw-ABB CO980
Generators 2x175kW + 1x400kW + emergency generator
Optional Vessel/Engines Methanol ready
Fuel...............250t
Max speed:......16 knots
Cruise speed:..14 knots
Materials: Steel hull and light alloy-composite superstructure
Features
2 Pools and 1 Jacuzzi
Safe room
iMax Cinema
Toys and Tenders
1 x VIP tender/rescue boat
1 x dive support tender
1 x beach lander tender
2 x expedition RIBS
1 X EC135 Eurocopter helicopters
4 x wave runners
3 x seabobs
and Kayaks, SUPS, Surfboard, Windsurf and kitesurf gear, Water slide, bicycles..
Link to High Quality Images & Videos
https://www.dropbox.com/sh/3xylxkedb9718zj/AABNnHKy_0jrsRSbmZNILF65a?dl=0
Media Contact
T. Fotiadis Design GmbH
017632671569
Salzburger Strasse, 4
Source :T. Fotiadis Design GmbH
This article was originally published by IssueWire. Read the original article here.