Turkish Lira – Buyers' Remorse?
November 28, 2020 at 07:30 AM EST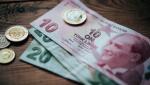 By Natalia Gurushina, Chief Economist, Emerging Markets Fixed Income Strategy, VanEck Turkish assets are under pressure – in part due to thin pre-holiday liquidity, but also due to skepticism about the reform agenda. South Africa's double rating downgrade – not surprising but not welcome either....