Every 1 Voice Matters' revolutionary stuttering program receives prestigious award and has been recognized by national celebrities, government officials and schools across the country.
(PRUnderground) November 30th, 2020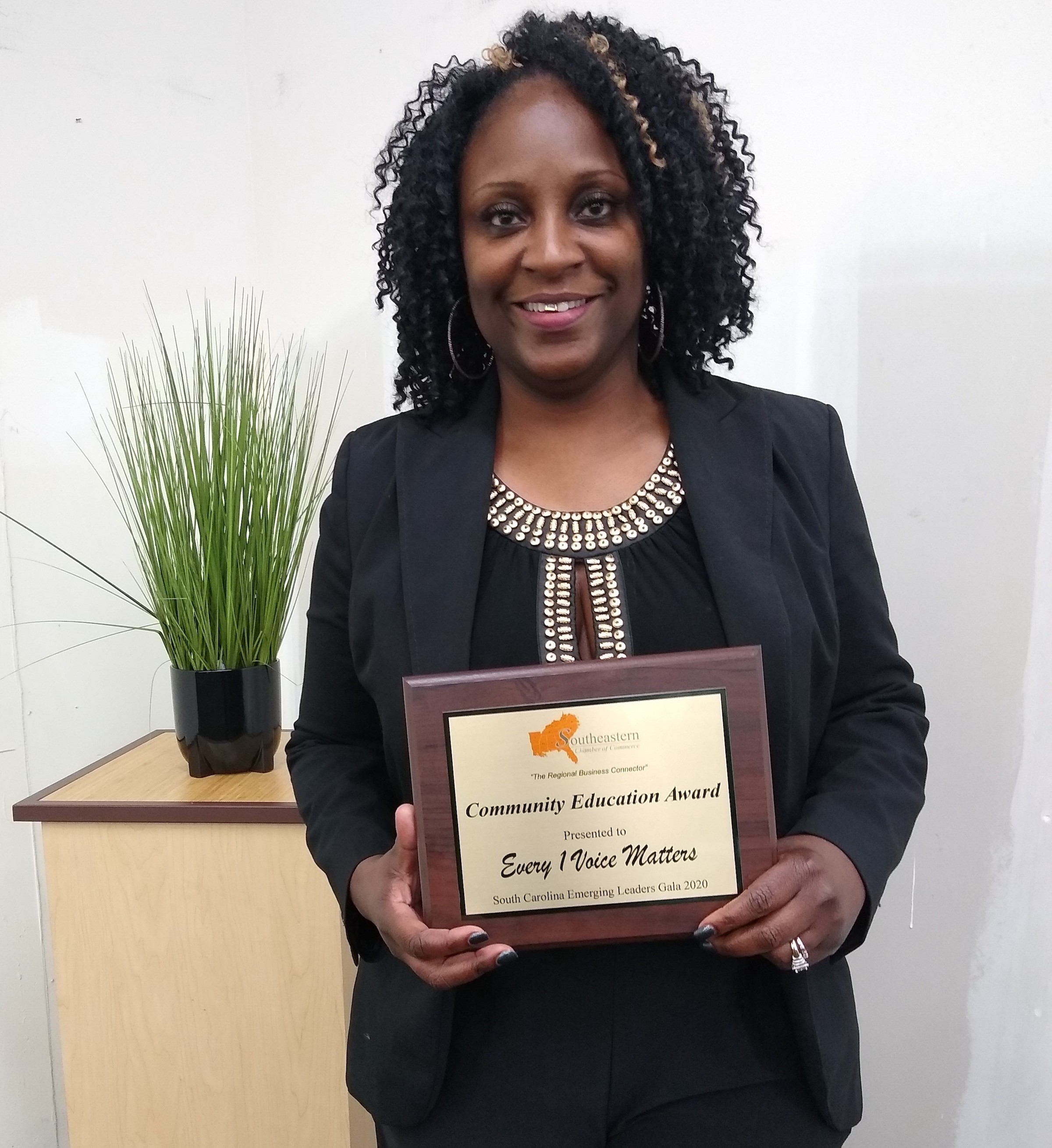 Nonprofit Every 1 Voice Matters has been honored as the Community Education Award recipient by the Southeastern Chamber of Commerce for their annual charitable events, vigorous community engagement and consistent work in providing support to children and students with speech impediments across the country.
Across the globe, 70 million people stutter including three million Americans. Children ages three to six are more likely than others to have a communication disorder. Every 1 Voice Matters created a new program, C.L.A.S.S. (Core Life And Social Skills), that has helped thousands of children grow exponentially. Founder Sherrikka Myers has witnessed immense improvements in kids such as reading comprehension jumping by up to 15 levels in just a few weeks. Unlike other programs that only focus on speech skills and techniques, this initiative targets the root causes and underlying triggers of stuttering, which are self-esteem and confidence.
"When you think of her grassroots efforts of visiting schools and encouraging students like those who have been through stuttering or have speech impediments across the world, she has been a great asset to reminding and influencing the confidence within students that they can make it to the next level," says Founder of the Southeastern Chamber of Commerce Henry Ravenel, Jr. "Sherrikka and Every 1 Voice Matters were presented with the Community Education Award because of their consistent work in providing support and in delivering service to the community in so many ways." 
Myers' developmental program has been revered by teachers and principals around the nation. The nonprofit has even been personally recognized by U.S. Congressman Joe Cunningham and celebrities like retired NBA player Kenyon Martin and Seattle Seahawks NFL player Brandon Shell for their initiatives. Myers' ambition is driven through her personal story of stuttering as a young child in a single-family household and overcoming the condition by reading a book out loud.
She has continued her efforts in the community with giving away over 100 backpacks filled with school supplies at Waylyn Park in North Charleston this past Saturday along with My Community's Keeper Mentor Group. Her next endeavor is the Every 1 Voice Matters Christmas Give Back and Coat Drive Saturday, Dec. 19th from 1 p.m.- 4 p.m. at the Community Resource Center, 3947 Whipper Barony Lane in North Charleston. Over 400 coats for kids in low income areas and Publix gift cards will be given away along with toy raffles and special appearances by Santa Clause and the Every 1 Voice Matters Mascot Lil Herbie.
Alternatively, if people would like to contribute to Every 1 Voice Matters, purchases can me made through their Amazon link (https://smile.amazon.com/gp/chpf/homepage/ref=smi_chpf_redirect?ie=UTF8&ein=82-4617482&ref_=smi_ext_ch_82-4617482_cl). When this link is used, Amazon will give a portion of the purchase proceeds toward the nonprofit.
To learn more about Every 1 Voice Matters, visit every1voicematters.org.
About Every 1 Voice Matters
Every 1 Voice Matters is a nonprofit organization designed to help kids break down communicative and social barriers such as stuttering, bullying and self-esteem to improve their quality of life. The 501c3 nonprofit reaches underserved youth and communities through outreach programs, grassroots events, yearly giveaways, digital initiatives and other innovative measures. Every 1 Voice Matters has been featured nationally on CBS, ABC, NBC, FOX, Spectrum News, the Black News Channel and more.
The post Every 1 Voice Matters' New Award-Winning Program Led by Former Stutterer Helps Urban Youth first appeared on PRUnderground.
Press Contact
Name: Lanetra King

Phone: 8437903630

Email: Contact Us
Original Press Release.