Can ESG ETFs Bring Your Portfolio Good KRMA?
December 04, 2020 at 12:46 PM EST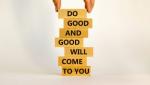 Saying that environmental, social, and governance (ESG) investing is growing in popularity is starting to become a broken record in the capital markets. Still, ESG is music to the ears of investors and the issues they care about, which can only bring good karma via ETFs like the Global X Conscious...