Dr. Shahnoz Rustamova, OB/GYN Owner of Central Park Medical, Central Park Cosmetics, and Founder of non-profit CPMP Angels was recently announced as the recipient of the International Healthcare Hero Award for 2020 given by the International Association of Top Professionals (IAOTP)
(PRUnderground) December 9th, 2020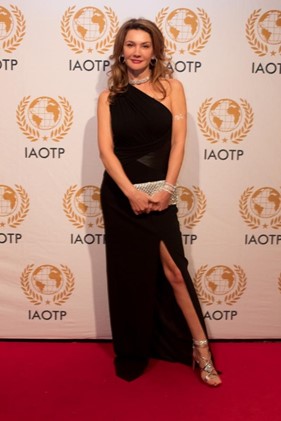 Dr. Shahnoz Rustamova, OB/GYN Owner of Central Park Medical, Central Park Cosmetics, and Founder of non-profit CPMP Angels was recently announced as the recipient of the International Healthcare Hero Award for 2020 given by the International Association of Top Professionals (IAOTP) for her selflessness, integrity, determination and virtuosity.
Being selected for this distinction by the International Association of Top Professionals is a renowned honor, only 1 member is chosen from the Healthcare Industry. These special honorees are distinguished based on their longevity in their fields, the contributions they have made to society, the impact they have had on their industries and the admirable qualities that make Dr. Rustamova deserving of this title. This year Dr. Rustamova will be accepting her award on stage at the magnificent Plaza Hotel in New York City while in attendance of IAOTP's 2020 Annual Awards Gala. www.iaotp.com/award-gala
Stephanie Cirami, President of IAOTP states that "Choosing Dr. Rustamova for the International Healthcare Hero Award was a simple decision for our panel to make. Her constant display of emotional resilience and ability to cope under pressure are what make her so admirable. Dr. Rustamova is a heroic figure to both her patients and amongst her colleagues. Her achievements prove her bravery, humility and perseverance. IAOTP will continue to award Dr. Rustamova for her heroic nature and as a thriving Doctor. We are looking forward to commemorating her at the 2020 Annual Awards Gala in December."
For the past four years, Dr. Rustamova has been recognized for her philanthropic efforts and was invited keynote speaker at IAOTP's Galas where she spoke about her non-profit CPMP Angels.  She gave a very emotional speech describing life for her growing up hungry, without food and trying to survive. Throughout her career Dr. Rustamova and her team have travelled to rural villages in Nepal, India and Haiti to combat malnutrition, provide basic medical care, test for TB, HIV and other STD's.  Her and her team have volunteered, shared their medical wisdom and given support to help the needs of the community.  Her nonprofit is designed to help raise money to continue their humanitarian and missionary healthcare work.  http://cpmpangels.org/
Throughout her illustrious career, Dr. Rustamova has been recognized worldwide and she has received numerous awards for her outstanding leadership and commitment to the profession.  In 2007 she was the recipient of "Resident of the Year Award" and "Best Teaching Resident" by Jamaica Hospital Department of OB/GYN.   She was listed as "Top Doctor" with American Registry from 2010-2016.  She was the recipient of the Patient's Choice Award as "Best OB/GYN", Selected as a "Top 101 Industry Expert" with Worldwide Branding and chosen to grace the front cover of Pro-Files Magazine. For 2016 selected as Top Doctor of the Year, 2017 named Humanitarian of the Year, 2018 selected as "Woman of the Year" and graced the front cover of TIP (Top Industry Professionals) Magazine.  For 2019 honored and named "Top Non-Profit of the Year" by the International Association of Top Professionals and for 2020 Most Inspirational Member of the Year by IAOTP.  Dr. Rustamova was featured on the famous Reuters Billboard in Times Square NYC for this distinction. For 2021 she will be considered for
Dr. Rustamova remains as an active member with the North American Menopause Society (NAMS), the American Congress of Obstetricians and Gynecologists, the American Institute of Ultrasound in Medicine, the International Society of Cosmetogynecology and was certified by the American Board of Obstetrics and Gynecology (ABOG).  She received her Medical Degree with Samarkand State Medical Institute and finished her Residency with Jamaica Hospital Medical Center.  She speaks English, Farsi, Russian, Uzbek and is affiliated with St. Luke's Roosevelt, and Queens Hospital.
Watch her video: https://www.youtube.com/watch?v=LiQJ1722v_U
http://www.centralparkobgyn.com http://centralparkcosmetics.com/
About IAOTP
The International Association of Top Professionals (IAOTP) is an international boutique networking organization that handpicks the world's finest, most prestigious top professionals from different industries.  These top professionals are given an opportunity to collaborate, share their ideas, be keynote speakers, and to help influence others in their fields. This organization is not a membership that anyone can join.  You have to be asked by the President or be nominated by a distinguished honorary member after a brief interview.
IAOTP's experts have given thousands of top prestigious professionals around the world, the recognition and credibility that they deserve and have helped in building their branding empires.  IAOTP prides itself to be a one of a kind boutique networking organization that hand picks only the best of the best and creates a networking platform that connects and brings these top professionals to one place.
For More information on IAOTP please visit:   www.iaotp.com
The post Dr. Shahnoz Rustamova receives the International Healthcare Hero Award by IAOTP first appeared on PRUnderground.
Press Contact
Name: Stephanie Cirami

Phone: 212 634 4427

Email: Contact Us

Website: https://www.iaotp.com/
Original Press Release.