Mr. Ronald C. Whittemore, is a Senior Gold Medalist, Renowned long-distance runner, jumper and Former Computer Programming Expert. He was recently announced as Computer Programming Expert of the Decade for 2021 given by the International Association of Top Professionals (IAOTP).
(PRUnderground) December 23rd, 2020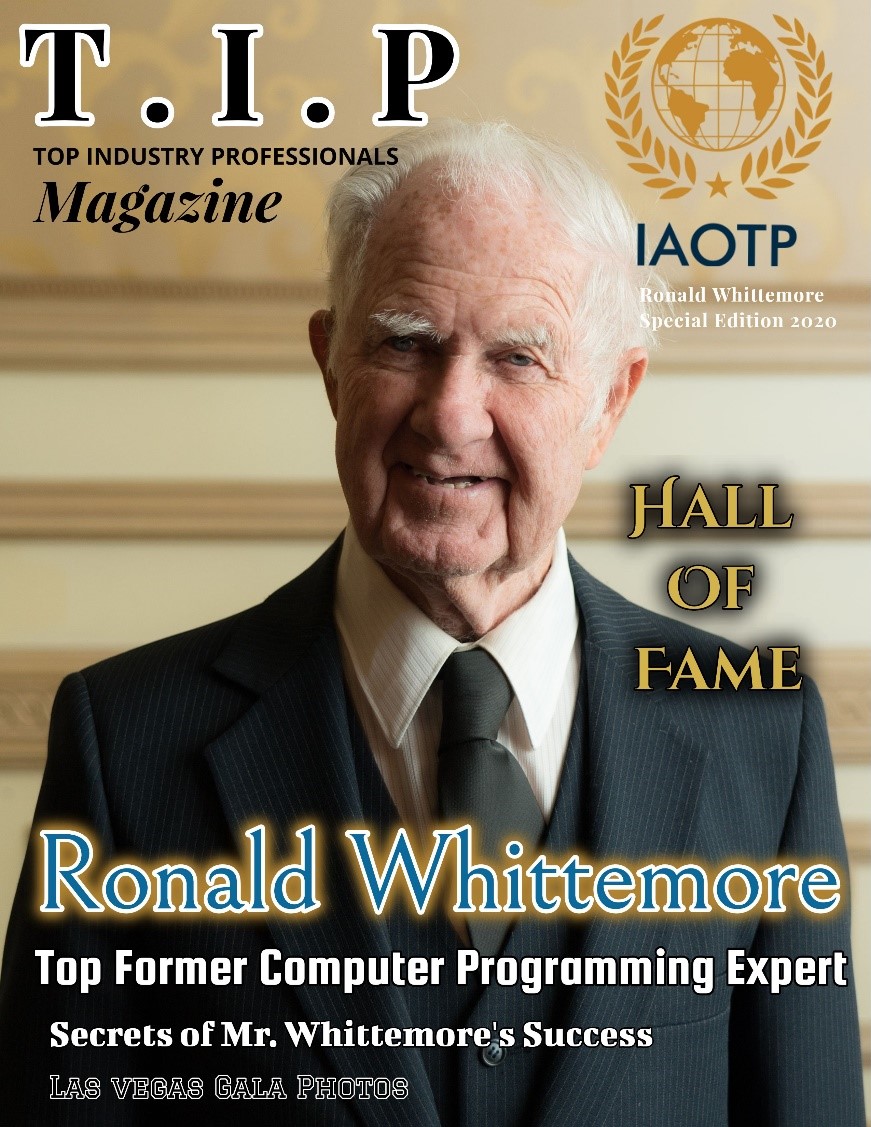 Mr. Ronald C. Whittemore, is a Senior Gold Medalist, Renowned long-distance runner, jumper and Former Computer Programming Expert.  He was recently announced as Computer Programming Expert of the Decade for 2021 given by the International Association of Top Professionals (IAOTP).
While inclusion with the International Association of Top Professionals is an honor in itself, only 1 Computer Programmer is selected for this distinction. Mr. Whittemore is being recognized for this honor for having over 5 decades of professional experience in Computer Programming.  He was honored at IAOTP's Annual Awards Gala in Las Vegas at the Bellagio Hotel, as Top Former Computer Program Manager of the Year for 2019.  Mr. Whittemore will be inducted in IAOTP's exclusive Hall of Fame, he will receive the Lifetime Achievement Award and be honored for this distinction at the 2021 Annual Awards Gala. www.iaotp.com/award-gala
Before Mr. Whittemore began his professional career, he earned his Bachelor of Science in Business Administration from Nathaniel Hawthorne College in Antrim, New Hampshire and graduated magna cum laude from programming school. Datamann, Inc financed Mr. Whittemore's education because of his pivotal role in the field and requirements and developments were changing and requiring more from professionals.
Mr. Whittemore's impressive repertoire of previous roles served were: Computer Programmer at the Cross Company in Hartford, Vermont, Senior Programmer with Joy Manufacturing and Computac LLC, and as Programming Manager at Datamann, Inc until he retired.
Throughout his employment as a Computer Programmer, Mr. Whittemore was recognized for his commitment and efficiency of his work within his field. In past years, he graced the front cover of TIP (Top Industry Professionals) Magazine and was featured on the famous Reuters building in Times Square, NYC.  He was chosen as Top Former Computer Programming Expert of the Year by the International Association of Top Professionals (IAOTP) and was the recipient of the Albert Nelson Marquis Lifetime Achievement Award given by Marquis Who's Who.  Mr. Whittemore has been featured in numerous publications including Who's Who in Finance and Industry, the 21st edition of Who's Who in the East, several editions of Who's Who in the World, the sports section of the Eagle Times, and In The Valley News. He has been affiliated with a number of organizations in his community such as serving as President of the Claremont Bridge Club, Former President of the Claremont Men's Softball League, Fellow of the Data Processing Management Association, past post commander of the Veterans of Foreign Wars, member of the Knights of Columbus and he sits on the board of directors of Circle 8 Square Dance and recently joined the American Legion.
In addition to his occupational successes, Mr. Whittemore served in the United States Navy and Air Force. He has made a name for himself as an amateur athlete. Mr. Whittemore received three gold medals at the Senior Olympic Games held in Burlington, Vermont. He is a renowned long-distance runner and jumper. He competed in the 2019 National Senior Games in Albuquerque, New Mexico. Mr. Whittemore, won the First Place Gold Medal in the long jump, triple jump and 100-meter dash events at the 2018 National Senior Games in Vermont.  He also qualified for and attended every National Senior Games since 1995.  He ran the Boston Marathon in 1961 and holds the record in Claremont for the most consecutive days gone running, the second longest in the state of New Hampshire. After struggling with four heart attacks and a blood transfusion, he limited himself to short distance running, long jumps and triple jumps.
Mr. Whittemore says his greatest accomplishment has been surviving 4 heart attacks while still training to do the Triple Jump where he received the Silver Medal and he jumped far enough to be number 4 overall of all the Senior Games ever held.  His record wasn't broken in 2015 2017 or 2019.  He is still Number 4 and also #10 in the world and tied for #2 in the USA.  The greatest thrill for him was that his wife Lillian was able to see it.
For the future, he hopes to continue to be a competitive sports enthusiast and hopes his story of remaining active and defying the odds with his heart condition at 80 years old will enlighten and inspire people to never give up.  In his spare time, he enjoys running, chess, softball, reading, bicycling, playing cribbage and spending time with his wife Lois and daughter Debbie. Mr. Whittemore attributes his success to his education, mentors he has had along the way and staying passionate in all his endeavors.
For more information on Mr. Whittemore please visit: https://www.facebook.com/ronald.whittemore
To view Mr. Whittemore's Video Biography please visit:  https://youtu.be/tEB4gA1ErSg
About IAOTP
The International Association of Top Professionals (IAOTP) is an international boutique networking organization that handpicks the world's finest, most prestigious top professionals from different industries.  These top professionals are given an opportunity to collaborate, share their ideas, be keynote speakers, and to help influence others in their fields. This organization is not a membership that anyone can join.  You have to be asked by the President or be nominated by a distinguished honorary member after a brief interview.
IAOTP's experts have given thousands of top prestigious professionals around the world, the recognition and credibility that they deserve and have helped in building their branding empires.  IAOTP prides itself to be a one of a kind boutique networking organization that hand picks only the best of the best and creates a networking platform that connects and brings these top professionals to one place.
For More information on IAOTP please visit:   www.iaotp.com
The post Ronald Whittemore named Computer Programming Expert of the Decade by IAOTP first appeared on PRUnderground.
Press Contact
Name: Stephanie Cirami

Phone: 212 634 4427

Email: Contact Us

Website: https://www.iaotp.com/
Original Press Release.